We have added a new button to Canvas. Although not particularly exciting in itself, it's what this button can do that makes it newsworthy. Lecturers in the Faculty of Science and Engineering are part of a pilot looking at improving the accessibility in Canvas modules.
We are supporting lecturers to do this via a Canvas diagnostic tool "UDOIT". The Universal Design Online content Inspection Tool, or UDOIT enables staff to identify accessibility issues in their Canvas course content.
The Canvas addon scans a course, generates a report, and provides a summary of accessibility issues specific to their Canvas module. It was created by the Center for Distributed Learning (CDL) at the University of Central Florida (CDL).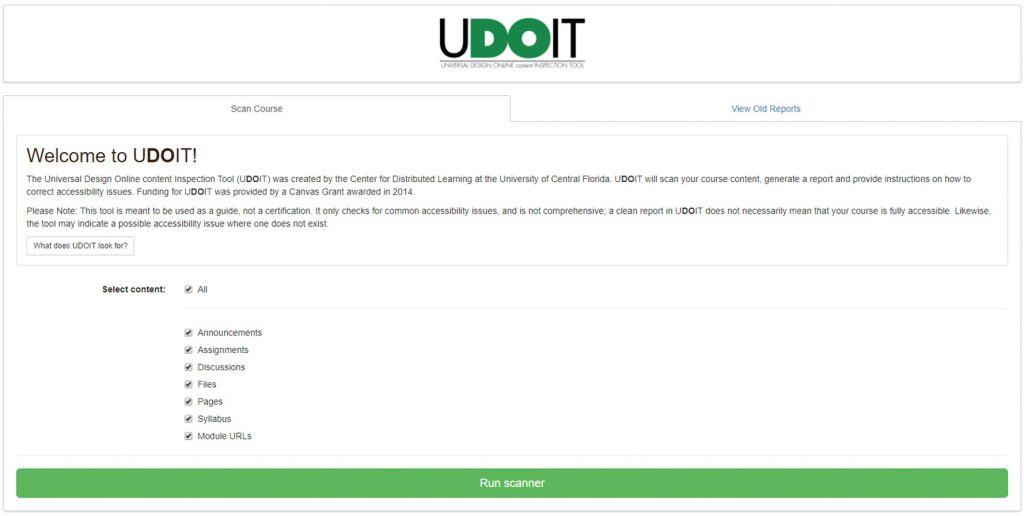 DOIT identifies issues and provides suggestions in the following areas of your course;
Announcements
Assignments
Discussions
Files (i.e., .html files)
Pages
Syllabus
Module URLs
UDOIT also checks for the appropriate use of;
The Origin of UDOIT
The Center for Distributed Learning (CDL) partners with the Student Accessibility Services (SAS) office to ensure access to online course content for students with disabilities. Historically, reviewing courses has been a manual, reactive process done by CDL staff. With UCF's large online presence, a systematic, proactive, instructor-centric approach was devised to identify accessibility issues in online course content.
In late 2013, Instructure (the creators of Canvas, the platform that powers [email protected]), announced a grant program for anyone in higher education with innovative ideas. CDL applied for, and ultimately won, a $10,000 grant to build UDOIT.
Audio and Video Locate and test all video CC buttons as they may not be available or activated. Be sure video files contain synchronized captions. Please note that automatic captioning in YouTube is not accurate. Include text transcripts for all audio files including podcasts. Amara provides self-captioning for YouTube and Vimeo files. Camtasia Studio, mentioned.
If you cannot highlight text in a PDF document, it is not accessible. A screen reader will interpret an inaccessible PDF as an image, not text. This page will walk you through the process of creating accessible PDF documents. You can either start with a Word document and convert this document to PDF or you …
PowerPoint presentations tend to be highly visual, and people who are blind or have low vision can understand them more easily if you create your slides with accessibility in mind. Working with Microsoft PowerPoint (PPT or PPTX) Use slide layout templates whenever possible. When you can't use a template, at least use the one with the slide title only. Write presenter's notes in the provided area. Apply alternative test (ALT text) to images. Add captions to the slide or presenter's notes for complicated images.
Text Formatting and Document Organization Use sans-serif fonts designed for legibility on the computer screen (e.g., Arial, Verdana, Helvetica). Use bold or italic text to display emphasis. Don't underline words since on a web page this indicates hyperlinks. Avoid using coloured text (such as red) for emphasis since screen readers will not indicate it is.
Word has many features built-in that help people with different abilities to read and author documents. Word also offers the Accessibility Checker that locates elements that might cause problems for people with disabilities. You can learn more about how the Accessibility Checker works, see Rules for the Accessibility Checker.